Welcome to St. Mary's Parish
The Oldest Parish in the Diocese
St. Mary's Church is closed until further notice.
St. Mary's Church is located in Lyndon Station, WI. It is known as the Upper Cathedral of the dells. It was built by hundreds of Irish immigrants in 1899, and dedicated on May 8th 1900. St. Mary's parish began in 1853 as St. Bridget's Catholic Church. St. Bridget's was formed in 1853 and was located at the present day St. Mary's Cemetery; west of Lyndon Station on Highway J. St. Mary's is the oldest parish in the Diocese of LaCrosse.
We are located just north of the Wisconsin Dells on Interstate 90/94, exit 79.
In the Lyndon Station area, 153 families currently call St. Mary's their home parish.
On March 1, 2017 our parish welcomed Father Clayton Elmhorst to St. Mary's.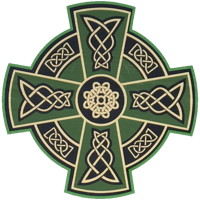 Whether you're visiting Lyndon Station, passing through or planning to move here, we welcome you!
REGULAR MASS SCHEDULE
tap for mass details
Memorial Mass at Cemetery
May 24th
9:00 a.m.
Joint Parish Council Meeting
May 26th
6:30 p.m.
Pentecost Sunday
May 31st
9:00 a.m.
1st Communion & St. Mary's Graduation Blessing
June 14th
9:00 a.m.
St. Mary's Confirmation
Postponed until
further notice.
Diocese of LaCrosse Events
Cancelled until
further notice.
Greetings Family and Friends of St. Mary's,
At this time with the ever evolving pandemic of Covid-19, I am posting these following recommendations and best practices for St. Mary's Parish. I urge everyone to
*PLEASE STAY HOME so that you protect yourself, your family, neighbors and friends. As of March 24th, 2020, St. Mary's Church will still be open during posted business hours. We will also post updates via our Facebook page and the church entrances. As of now the church building will be open most days from 9:00 am to 6:00 pm.
Please follow the guidelines provided by the Wisconsin Department of Health Services: https://www.dhs.wisconsin.gov/outbreaks/index.htm.
Please practice social distancing at all times and be good stewards of everyone's health. Practice good hand washing and sanitizing, and above all respect the, 'no more then 10 people' in the Church building.
We will get through this,
Fr. Clayton