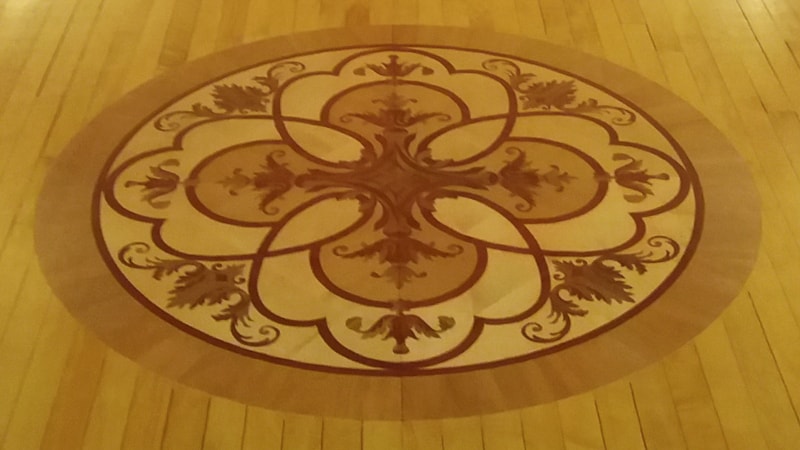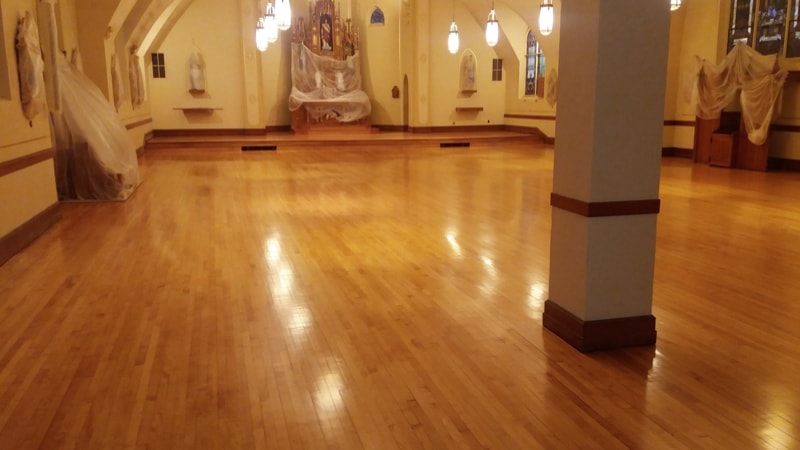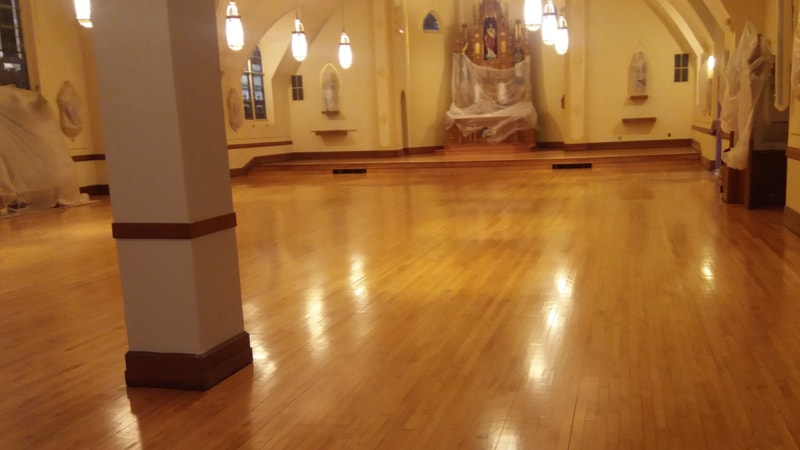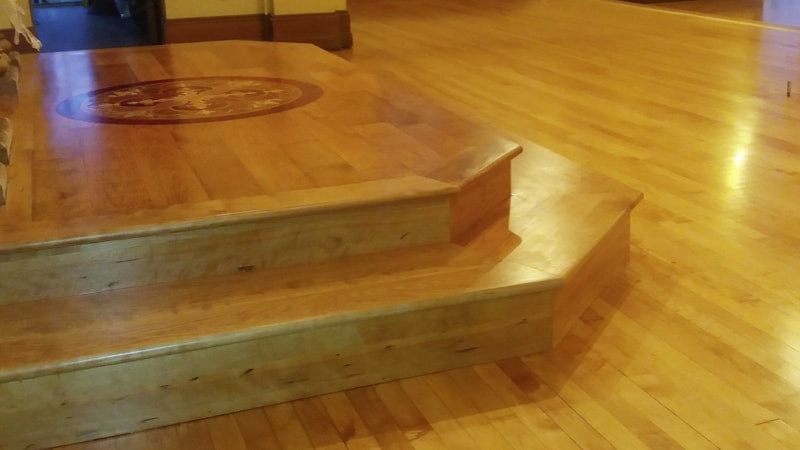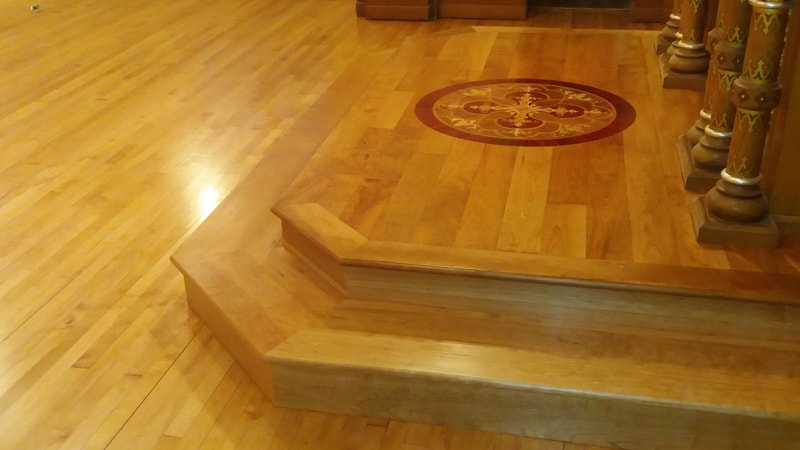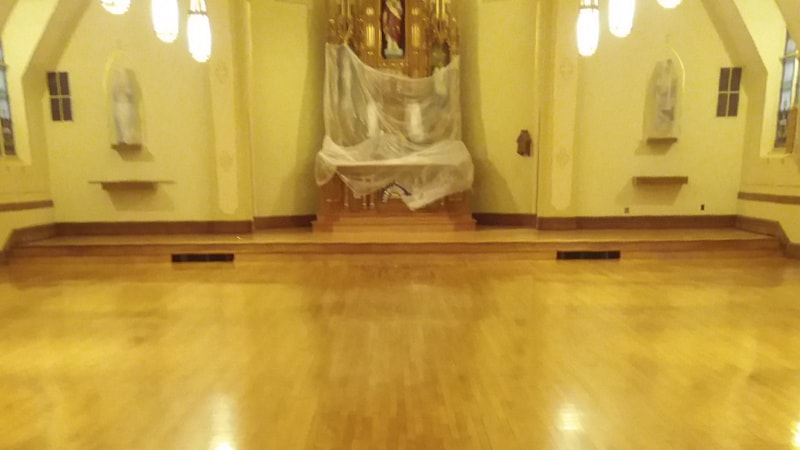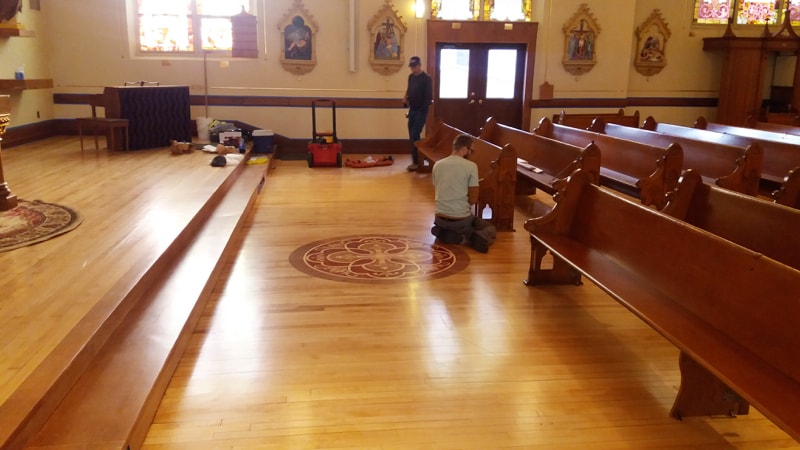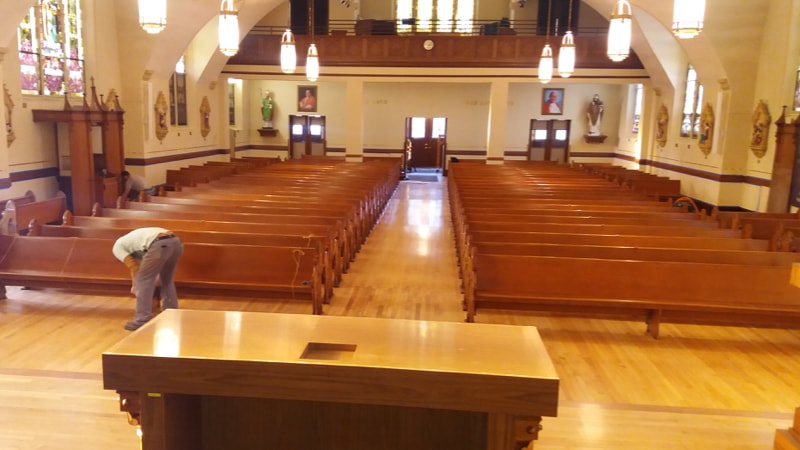 Floor Project Fundraising Completed!
Thank you to everyone (all 154 families!) who contributed, big and small, to the floor project over the years! We have come to an end in our fundraising efforts for the project and are so very thankful for all the generous donations! THANK YOU!!
Floor Renovation Timeline
April 2021 – Fundraising Completed!
Thank you to everyone (all 154 families!) who contributed, big and small, to the floor project over the years!
We have come to an end in our fundraising efforts for the project and are so very thankful for all the generous donations! THANK YOU!
10.18.20 Floor Project Update
We're in the third year of fundraising for our beautifully restored floor. Thank you to everyone who have contributed so far! We're almost there!! We're at 92% of our total goal! If you haven't already fulfilled your pledge and don't know how much you've given, or your pledged amount, you can contact the parish office and we can look that up for you. If we receive the remainder of pledges, we'll be at 100% of our goal! Again, thank you to everyone for your generosity and we're looking forward to being done with this fundraising project!
12.2.19Christmas Brunch & Floor Reveal
Sunday Dec. 2nd 10 a.m. Sign Up sheets are in the back of church for food and attendance. Everyone is welcome! Bring Family & Friends.
11.17.18 So where are the Medallions?
Folks, here is an update on the floor project. Unfortunately we are now a few weeks delayed. The floor people are on standby as we await the anticipated medallions for the floor. Bad luck, but the medallions were shipped from Poland to U.S, and the invoice was either not placed or misplaced in transit. So, they've been stuck in Memphis TN, at U.S. Customs since Nov 4th. We are working hard at getting them released and FedExed here as soon as possible. Baseman floors is waiting and can't continue doing any work until they have the medallions. Plus many folks will be hunting next week, so that will delay us a bit more. No worries, we're hoping they should be here this week, if not the week of Nov 17th.
10.27.18 Less than 4 weeks away!
I want to say thank you for everyone's time and energy they have been giving to the floor project. Steven Basemen and his brother Mike were hard at work this week sanding and sanding….and you guessed it, more sanding. They had to come up with a different method to get to the surface, (under the tar paper) which took a lot more time and energy to do. No worries to anyone, all this is covered in the accepted bid with R.J. construction. Thank you to Chris D, Peter L, Dennis F, Dan P, and Paul Z, for their efforts to come out and help prepare the floor a bit before sanding. We actually canceled after learning there was no method we could do, to affectively help remove the tar paper better. This week we are also harvesting the main entrance floor. This is done so we can put harder cement board underneath the porcelain tile. The floor will have carpet inlay flushed up with the textured/marble tile. It will be hard, level and square; perfect for a nice entrance way—transition into the soon to be beautiful Narthex wood floor.
10.20.18 We're well on our way!
Folks, we are well on our way to finish the front entrance way. It should be done in the next week or two. I want to say thank you to everyone that has been helping me with the floor renovation project, especially those who have been helping with the pews. Please give a great big thank you to Peter Lochner for taking the time to glue and fix all 70 of our 120 year old pews. Peter has spent over 40-50 hours these past few weeks meticulously fixing and regluing most of our pews. Please send him a thank you and buy him a beer next time you see him at Swagger's. A lot of unknown repair was discovered in the moving process. He along with others have saved our parish thousands of dollars by volunteering their time and talent in this process. On another note the sacristy floor is completed. When you get a chance take a peak upstairs at the main sanctuary floor and the sacristy. There you will see the current progress on both areas of the project. Steve Baseman from Baseman floors has done an amazing job with the high altar steps. They are a sight to see. They are made from American Cherry. Also, last but not least thank you for all our financial support. I am amazed at our parish family and their generosity. We have already pledged and donated money in the range of $37,000. This is a great reflection of everyone's commitment to St. Mary's as well as your support for this project. I keep all of you in prayer and continue to do so in the coming months.
10.13.18 Asbestos Removed, so what's next?
This week folks we're having a contractor come and start working on our front entranceway. She'll be laying down 400 square feet of 12 inch ceramic tile; also I might add it has a nice textured finish. The tile will also have variations of gray, cream, white and off white. Overall the tiles will add a lot of color without taking away from the wood and walls/ceiling. The textured tiles will also provide a safe surface to walk on. Ask Jimmy C. he tested it out. The main doors, front, right and left entrance way doors, will also have a nice carpet inserted, inlayed into the floor. The room will have a great fresh, modern but old feel to it. I look forward to revealing it in the coming months.
After the asbestos was removed we did find out that most of the floor in the main area of the church is actually white/red oak. It is in great condition and will be beautiful once it is fully restored. A gentleman named Steve Basmen will be here this week to begin prep work on the main oak floor. He will begin sanding as soon as all the mastic and nails/staples are removed. We expect the general area to be prepped, cleaned and sanded by October 19th. We are way ahead of schedule. We're also putting a really nice old "Distressed" hickory laminate floor in the back sacristy. It was on sale at Home Depot and really ads to the back room. The goal was to keep the patina and history, yet lay down a nice modern floor. God bless and check out the upstairs progress.
10.6.18 So what's Underneath that carpet?
This week we can finally see what is underneath all that evil asbestos. Friends we are on track to get down to our floor. Matt from Brack thermal has come down here all the way from Eau Claire, to abate all the asbestos tile. There is over 2500 square ft of it. We also have Chris DeLange hard at work painting and repairing sections of our walls and ceiling. The hard rain we've had this late summer has taken a toll on our 120 year old walls. Rest assured he is repairing many cracks and sections of plaster that were coming off the walls. I don't know about you, but I look forward to knowing what's underneath all that tile. My hope it's a wonderfully preserved oak floor.
FYI: in 6 weeks time we will be out of the cold basement and enjoying our newly resurrected floor. I have heard many concerns that folks do not like the setting. I'm sorry for that. I honestly am trying my best. I ask for your continued patience and prayers as we work through this construction. It will be worth it in the end I promise. Lastly, please keep in prayer all our farmers. I ask you, as I am praying for no more rain. We now need a good fall harvest, and favorably weather that will dry up everything for our bean growers. God bless all of you and your pledges and gifts for the floor project. I am amazed and blown away at how generous you all are. It is humbling…
Wanna Help?
Folks, during this time I ask for your support and prayers during these upcoming renovations. If you'd like to make a monetary donation to the floor, please do. We record all donations and send a contributions letter at the end of the year. If you don't have money to give, I ask for your prayers. Prayer is more powerful then money; because God has LOTS of it. I would also encourage you to assist and help the parish in other ways by promoting these renovations and helping out on Saturdays. Everyone can help in some way. Thanks again for your support! – Fr . Clayton